Awards and Achievements
---
Hall of Fame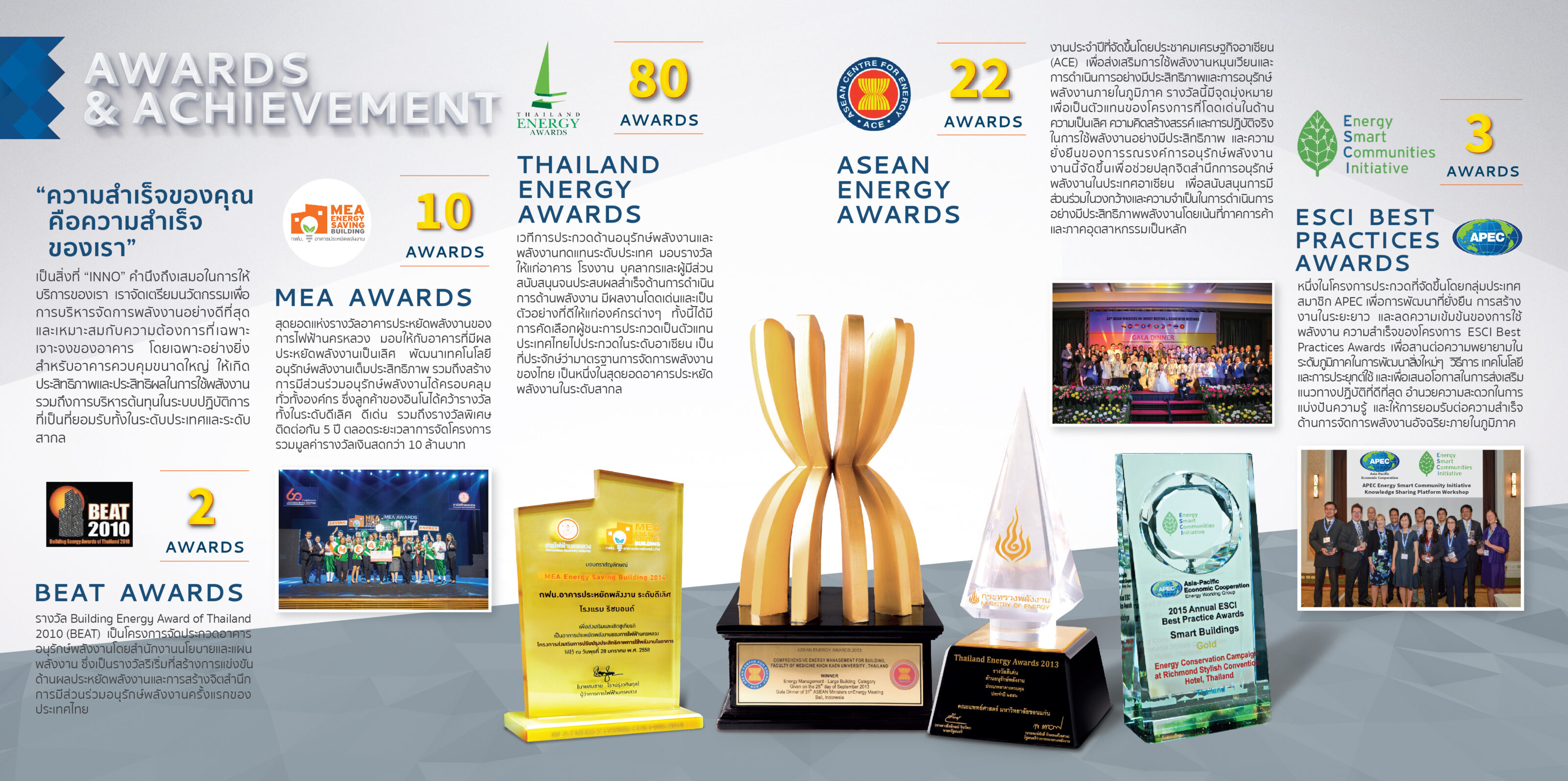 "Your success stories are our success stories" is our motto for providing services. We provide innovative solutions for optimal energy management based on specific building requirements tailored just for you, especially for large controlled buildings, to achieve optimal energy usage and cost management, proven by awards from leading organizations, both locally and globally.
BEAT AWARDS
The Building Energy Awards of Thailand 2010 (or BEAT) is a sustainable buildings contest organized by the Energy Policy and Planning Office of Thailand. This is the first award in Thailand that focused on competing for energy conservation goals, and sparking the interest to take part in energy conservation initiatives.
MEA AWARDS
The ultimate awards for the energy conservation buildings, the energy conservation innovations, and the most active organization in terms of energy conservation consciousness, organized by the Metropolitan Electricity Authority (MEA). Our clients were awarded from this program in the best of categories, the admiration categories, and special prizes for 5 years straight since the beginning of the award programs, with a total of prizes in cash over 10 million Thai Baht (or over USD 278,000).
THAILAND ENERGY AWARDS
The awards for energy conservation and sustainable energy in Thailand, which award the prizes to buildings, industrial facilities, people, and stakeholders who achieve the sustainable energy goals and become role models for other organizations to pursue the same goals. Not only that, some of the winners are also nominated in the ASEAN Energy Awards as well, which showcase the capability of managing energy in Thailand that can be executed at global scale.
ASEAN ENERGY AWARDS
Annual awards ceremony organized by the ASEAN Economic Community (AEC) to promote renewable energy initiatives, as well as effective energy management, and region-wide energy conservation. The goal of this ceremony is to promote the projects that reach excellency in operation, innovation, and practicality for optimal energy consumption, as well as sustainable energy conservation campaigns across the region, for promoting energy conservation consciousness to the members of AEC, supporting the cooperation between members, and necessities of effective operations, especially in trading and industrial sectors.
ESCI BEST PRACTICES AWARDS
One of the awards programs organized by members of the Asia-Pacific Economic Cooperation (APEC) for sustainable developments, long-term job opportunities, and reduction in energy consumption of the members. The success of this program is to persist region-wide for continuing developing sustainable innovations, know-hows, technologies, and applications, along with to promote the best practices by bridging the gap in terms of knowledge sharing and admiring the success in smart energy management within the region.