Company History
---
INNO History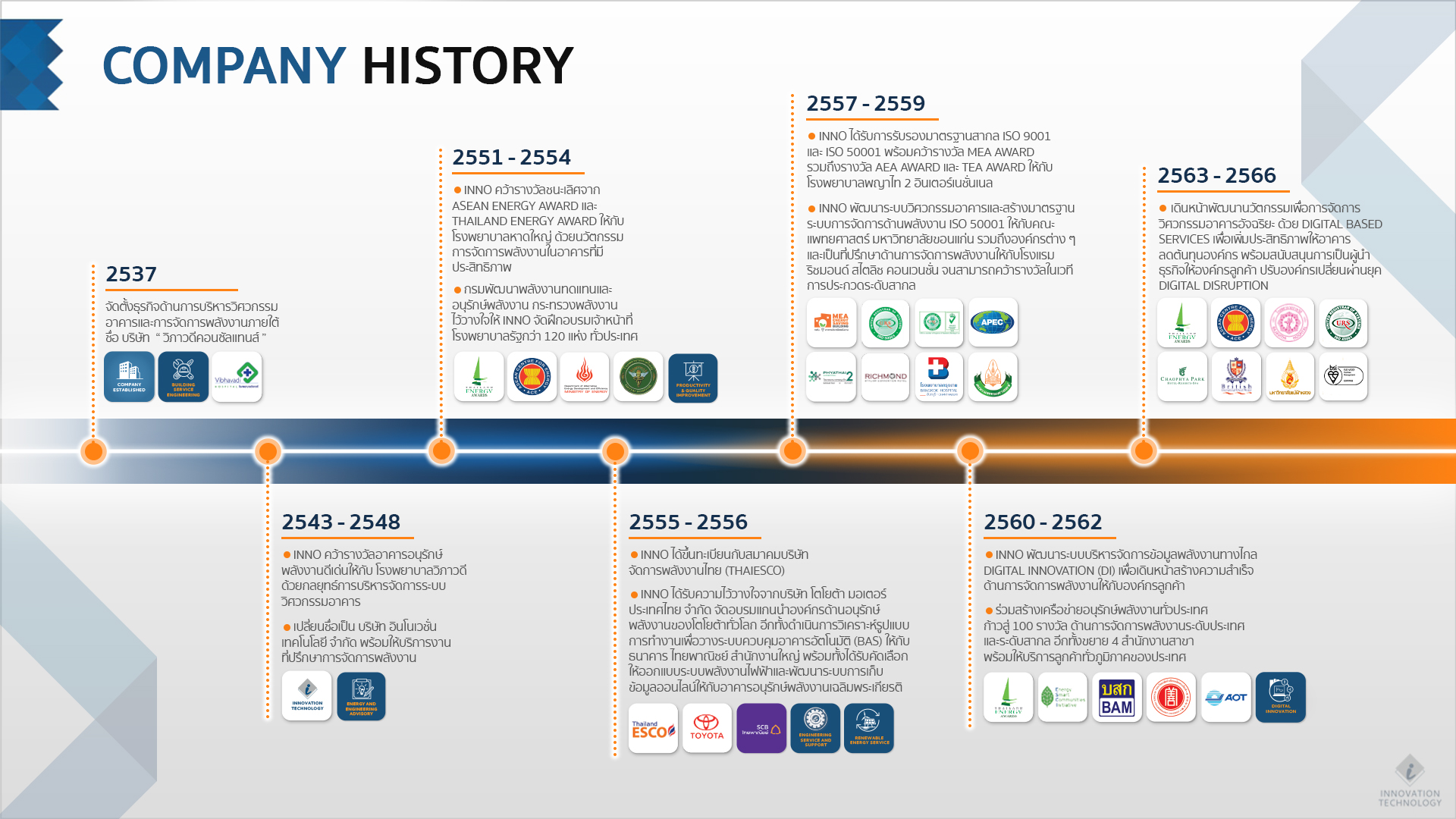 In 1994, a group of experts from various backgrounds came together to establish a specialized business known as "Vibhavadi Consultants." Our primary focus was building engineering management and energy management services. We aimed to provide consulting services for designing, maintaining, and repairing building engineering systems, with the goal of improving the efficiency of existing buildings and equipment, subsequently reducing the overall costs for organizations.
In 1998, one of our clients, Vibhavadi Hospital, received the Excellence Award for Energy Conservation Buildings from the Department of Energy Development and Efficiency under the Ministry of Science, Technology, and Environment (currently known as "The Department of Alternative Energy Development and Efficiency, the Ministry of Energy). This marked our first energy-related award achieved in collaboration with our clients.
In 2005, we rebranded our company as "Innovation Technology Co., Ltd.," often referred to as "INNO." Our primary focus was to provide consultation services for energy management by optimizing work processes for peak efficiency, offering advice on energy management and building engineering strategies, and developing energy management systems within buildings.
In 2008, through the implementation of our innovative energy management system, Hat Yai Hospital received the "Best of Energy Management in Buildings" award as part of the ASEAN Energy Awards 2008. The hospital also earned the "Excellence Awards for Energy Conservation" in the Controlled Building category.
In 2011, the Department of Alternative Energy Development and Efficiency under the Ministry of Energy selected us to conduct seminars for officers at over 120 public hospitals throughout Thailand. These seminars aimed to disseminate knowledge and raise awareness about energy and environmental conservation.
In 2012, we became a registered member of the Thai Energy Service Companies Association (ThaiESCO). This registration served as a seal of approval for our expertise in energy efficiency, renewable energy, and alternative energy services for industrial applications.
In 2013, we were entrusted by Toyota Motor (Thailand) Co., Ltd. to organize a seminar as part of an initiative project for the Toyota Motor Asia Pacific – Engineering & Manufacturing (TMAP-EM) and the broader Toyota Group. This seminar focused on teaching and training energy conservation skills for engineering teams.
Additionally, we conducted a study to explore the feasibility of implementing a Building Automation System (BAS) for the Siam Commercial Bank (SCB) headquarters. The study aimed to assess the functional analysis system's accuracy, with the ultimate goal of achieving sustainable building and building automation in the future.
Furthermore, we were selected by the Ministry of Energy as a contractor for engineering and installing renewable energy production pipelines for both solar and wind energy. We also developed software to collect and monitor energy production on demand for the Energy Conservation Building in Honor of His Majesty the King, a project under the Department of Alternative Energy Development and Efficiency, the Ministry of Energy.
Finally, we obtained ISO 9001 (Quality Management System: QMS) and ISO 50001 (Energy Management System: EnMS) certifications to ensure the excellence of our services.
In 2015, we leveraged our past experiences to develop building engineering management solutions for the Faculty of Medical Study at Khon Kaen University and Phayathai 2 Hospital International, leading to their attainment of ISO 50001 certifications.
We also provided energy management consulting for the Richmond Stylish Convention Hotel, which received the MEA Energy Saving Building award from the MEA Awards 2014, organized by the Metropolitan Electricity Authority (MEA). The hotel also achieved the Gold Rank in Smart Building from the ESCI Best Practices Awards 2015.
In the same year, we harnessed our expertise and experience to create Digital Innovation (DI), an innovative digital solution that incorporates the Internet of Things (IoT) for smart building engineering management. This digital-based service supported decision-making for executives in the era of digital disruption.
In 2018, we strengthened our partnerships with clients, forming an energy conservation network across Thailand. Our success was reflected in over 100 awards earned, both locally and globally.
Furthermore, our clients received the Thailand Energy Awards from the Ministry of Energy in various categories, encompassing university buildings, financial institution buildings, medical facilities, and hotels.
Today, we hold certifications for ISO 45001 (Occupational Health and Safety) and ISO 41001:2018 (Facility Management). These certifications are essential for delivering excellent services, ensuring safety, reliability, and efficiency in all processes for our clients.